To insulate your house, particularly against noise, it is possible to use insulating panels or to spray insulating materials into existing partitions. The best material for sound insulation is cellulose wadding.
Noise pollution is a problem for many French people, from individual houses close to a road to those with a party wall. The cases of the need for reinforcement of insulation can be diverse.
This content will allow you to know the materials and methods that are adapted to your problem. You will finally put an end to neighborhood noises or those from the street.
---
What methods should I use to insulate a home from noise?
Locating the origin of the nuisance can be an advantage before choosing your sound insulation method. This will involve targeting the right areas of the home, to implement the best strategy.
Insulate a wall against noise
For most individuals, wall insulation will be the most suitable strategy. We can choose to install a counter-partition, which will be juxtaposed with the existing partition.
The use of high-performance insulation between the initial partition and the one that will be installed is the key to good noise insulation.
If it is a question of insulating a wall between two rooms separated by plaster partitions, we can also install a plaster counter-partition with a thickness of 13 to 18 mm. It will be placed on a metal frame. Here we will also have an effective insulating material.
Finally, it is also possible to spray sound insulation directly into an existing partition. This will include rock wool, which can be sprayed by a professional, who will know how to distribute it optimally.
It is possible to install a counter-partition to accentuate the sound insulation effect.
Acoustic insulation of the ceiling
When the noise comes from the top of the house, it is possible to consider installing a false ceiling. We will once again use plasterboards, placed on hangers.
This solution is often favored by individuals who cannot insulate the floor upstairs where the noise is coming from. Please note, that this method is not 100% effective, and risks reducing the height of the isolated room.
Sound insulation of the floor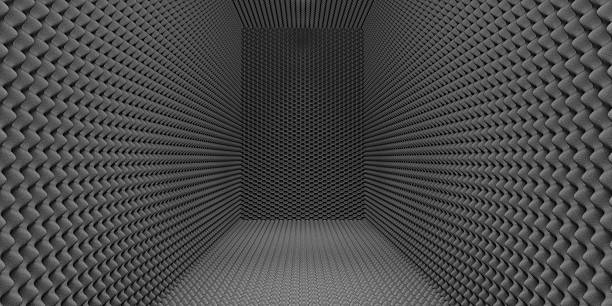 In the case of floor insulation, it will be possible to install insulation boards directly on the slab. We will then pour a screed to hide the materials. We can also consider laying a parquet floor directly on the insulation when it is intended for this purpose.
This second variant is generally the least restrictive in terms of costs and installation complexity. Insulation can help absorb noise produced in the room or isolate noise coming from the room below.
The importance of joinery
When noise comes from outside, walls and ceilings aren't the only areas you should be concerned about. The joinery must be scrutinized to ensure that it has the best possible sound insulation.
Here, the choice of joinery is therefore absolutely essential. For example, simple glazing will not absorb all of the exterior noise. We therefore advise you to focus more on double or triple glazing.
There are also windows equipped with acoustic glazing. Thanks to an asymmetrical glass, external noise will be further filtered. The materials chosen for the window surrounds are also important.
Finally, the closing system can also count. In general, sliding windows provide less sound insulation than windows with a French opening and their compressed seal.
---
What materials for effective sound insulation?
Our ranking of the best sound insulation materials is as follows:
Cellulose wadding
Mineral wool such as rock wool
The cork
Sheep's wool
Polystyrene or polyurethane
Wood fiber
Straw
If you have chosen the simple solution of the acoustic panel, their foam is generally made of polyurethane. Certain materials such as rock wool, cellulose wadding or sheep wool will have to be projected between two partitions. Calling a professional will therefore often be necessary.
---
How to Soundproof a Home from Inside Noise
If are you also troubled by the noise inside your house, then there is nothing to worry about, let me tell you that making the house soundproof from internal noise involves reducing the transmission of sound between rooms or from external sources.
Here are some effective methods that most people use for soundproofing different areas of your home:
Identify the problem areas: First of all you have to identify the areas in your house where the sound resides the most, which let me tell you that most of the sound includes inside the doors, windows, walls, and floors.
Weather Stripping: Let me tell you to apply weather stripping around doors and windows to create a tight seal. Because it helps a lot in reducing the passage of sound.
Clearing the door: Most of the sound passes through the bottom of the doors so you need to close the hole at the bottom of your door.
Seal Gaps and Cracks: If you find any gaps or cracks in the walls and sides of your home, you can seal them using caulk or acoustic sealant. Even small openings can contribute significantly to sound leakage.
Use heavy curtains: Heavy curtains are used inside homes to absorb sound.
Install acoustic panels: Install acoustic panels on walls to absorb and reduce sound. These panels are designed to reduce echo in a room and improve the overall sound quality.
Insulate the walls: Install insulation within the walls to increase the sound density and reduce sound transmission in your home.
---
Sound insulation in construction
We often talk about sound insulation in the context of a renovation. It is important to understand that the choice of your materials at the time of construction is also crucial.
If you have recently embarked on the project of building a house, be sure to use the right insulating materials. Sound insulation also involves the choice of your joinery. So be uncompromising when it comes to choosing your windows or even your doors.
---